News
Meeting on Feb. 5 will bring Algonquin chiefs to Ottawa as they renew pledge to protect sacred site on Ottawa River
January 31, 2016
Nine Algonquin First Nation chiefs who asserted Indigenous land rights to the sacred site Akikodjiwan in 2015 will be meeting with the National Capital Commission (NCC) on Feb. 5, 2016 in Ottawa.
The meeting was announced in a press release from Wendake, territory of the Wendat Nation. It follows support for the chiefs' position by both the Assembly of First Nations—Quebec Labrador and the national AFN body of chiefs, both of which passed resolutions in late 2015 calling for nation-to-nation talks with the legitimate Algonquin First Nations opposed to the Windmill condo project in the Ottawa River.
The chiefs are seeking "return of the sacred waterfront area and islands to Algonquin control and management as an Algonquin Cultural Heritage site to maintain a permanent presence in the National Capital Region, which is unceded Algonquin Territory."
The press release notes that "only one Algonquin First Nation, Pikwàkanagàn supports the condo project out of the ten communities that form the Algonquin Nation."
This photograph shows the nine Algonquin Chiefs and Grand Chief of the Algonquin Anishinabeg Nation Tribal Council during recent talks in Wendake.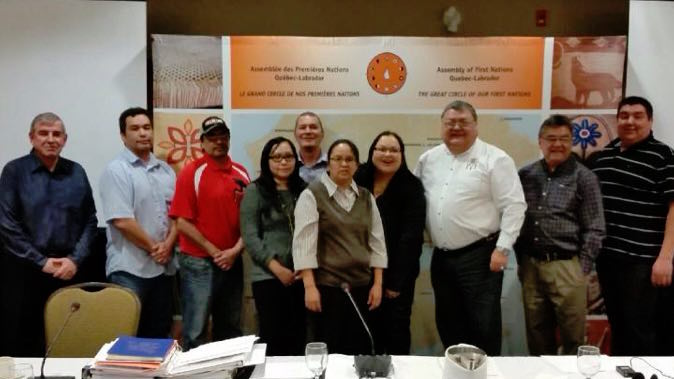 L to R: Kitigan Zibi Chief Jean-Guy Whiteduck; Barriere Lake Chief Casey Ratt; Long Point Chief Derek Mathias; Lac Simon Vice-Chief Pamela Papatie; Kebaowek Chief Lance Haymond; Kiticisakik Chief Adrienne Anichinapeo; AANTC Grand Chief Verna Polson; Timiskaming Chief Terrence McBride; Wolf Lake Chief Harry St. Denis; Abitibiwinni Chief David Kistabish
(photo by by Chief Terrence McBride)